While searching for a freediving watch what you really want is to have the best freediving computer. DiveBud is a freediving computer of a new kind, which uses a set of ascending and descending alarms to notify the diver of their depth and time checkpoints.
It also helps to track your dives and is embedded with special functions for freedivers, spearfishers, underwater photographers and professional athletes.
Paired with the DiveBud app it allows your phone to set up advanced depth and dive time alarms. It also collects precise dive logs for your own analysis, to share with your friends and dive buddies.
With incredible convenience and simplicity, DiveBud gives you a sixth sense underwater.
Specifications of freediving computer DiveBud
Wireless control of your diving plan right from your iPhone, iPad or Android phone or tablet.

Up to 20 ascending and descending depth alarms with optional time conditions.

The depth measurement sampling rate is two times per second.

Up to 50 diving logs are stored on the device. Unlimited diving logs can be stored on your phone/tablet.

Six different sound types.

Special alarms for hang dives.

Repeated time-based alarms for training.

Total dive time alarm for additional safety.

Rechargeable battery with USB-C charger.

Freshwater and saltwater modes.

Temperature tracking in the range of -2 to +42 Celsius with 0.1 C precision.

The maximum operational depth is 150 meters.
Freediving computer for you
We developed this freediving computer for:
Competitive freedivers

regularly train in the dark deep water, where conventional diving watches are difficult to use. DiveBud sound alarms work well in these conditions. Also, DiveBud provides the diving profile for every single dive. Your data belongs to you as you can simply download or share your logs.

Spearfishers

while focusing on the fish, have their hands busy with a speargun, need to stay at depth and not overextend the time underwater. DiveBud helps to keep track of time and avoid uncomfortable depths.

Underwater photographers

have a camera in their hands and are often caught by the beauty of the moment. DiveBud helps to keep the optimal depth and to remind when it's time to surface.

Freedivers who train regularly in the pool and would like to track their underwater time.

Beginner freedivers who would like to progress safely in this graceful and beautiful sport.
DiveBud vs Average freediving watch
Here you can find a table with comparison of DiveBud and an average diving watch: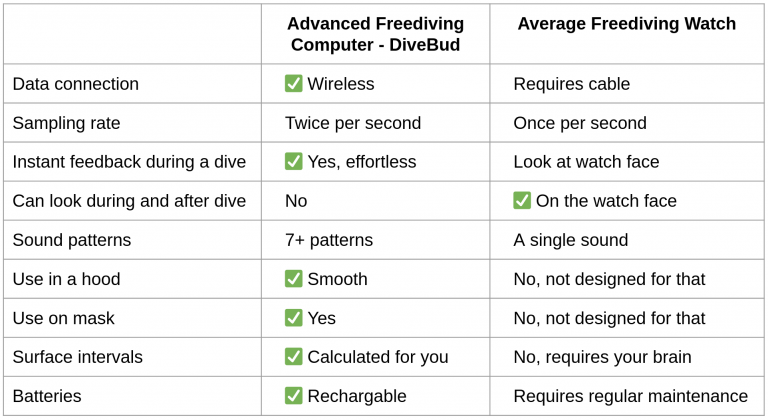 In these uncertain times, we would like to give our customers peace of mind by offering a 30 days money-back guarantee. You can return DiveBud for a full refund within 30 days of purchasing if it's undamaged and has been used according to the user's manual.
DiveBud comes with a one year warranty. If it does not work as expected, we will replace it with a new one.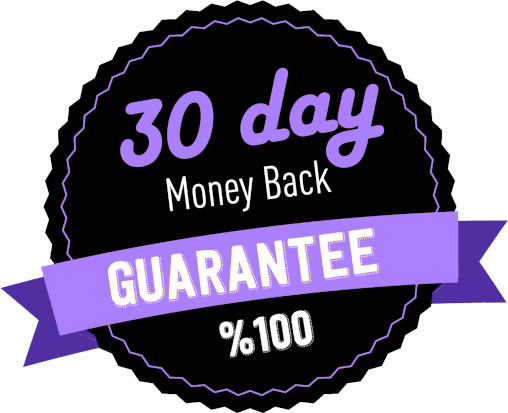 From freedivers to freedivers
We dedicate our work to enable new generations of freedivers, spearfishers and underwater photographers to explore underwater world with calmness in mind.
Not ready to order today? Subscribe for news about DiveBud and stay updated: